We asked our Creative Director, Sharon, to reveal some of her top Christmas table setting tips that will leave a lasting impression on your guests! We teamed up with The Sunday World magazine for this gorgeous Christmas shoot in Farrier and Draper, beautifully captured by Frank McGrath.
"Creating a magical Christmas setting is all about layering and personalising", explains Sharon. Making each guest feel like a little bit of thought was put into them being at the dinner is such a lovely touch. Simple details, such as having your guest's name beautifully handwritten on a place card waiting for them at the table, or wrapping a floral sprig with dried foliage gives guests something to take home with them at the end of the evening. "I have used gorgeous leftover Christmas gift tags with a little bit of scarlet ribbon or rustic twine and tied them to a little bit of foliage at the place setting! The little details really make such a difference. Look to your local park or even your back garden for gorgeous winter foliage that you can incorporate into the tablescape."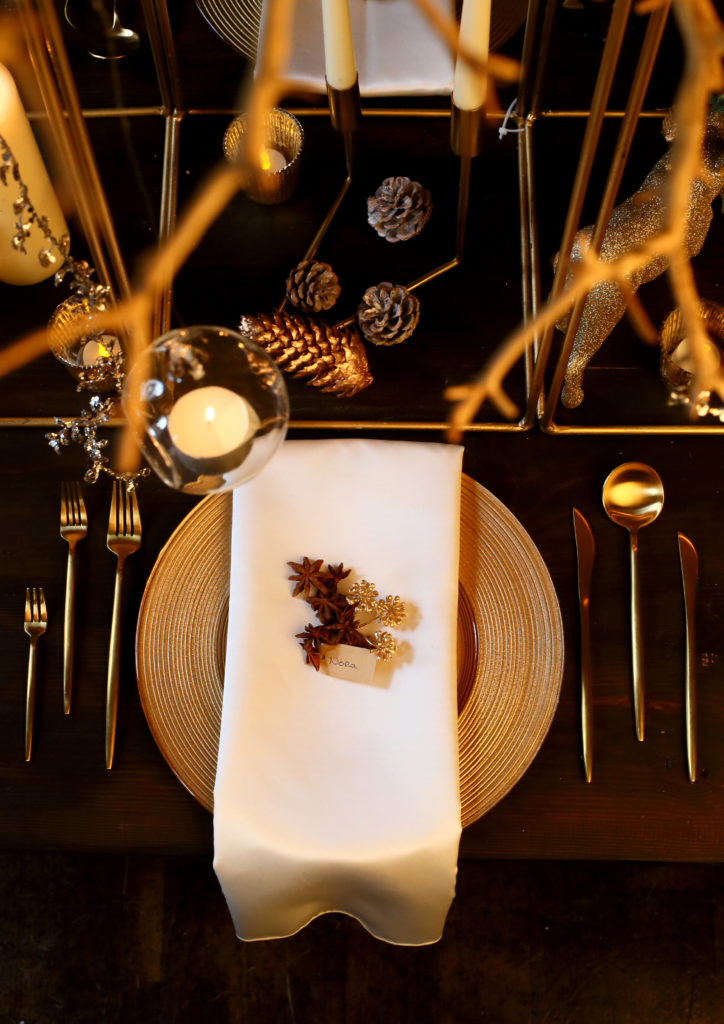 Lighting can totally change the mood of a room. Adding different height candles can create such a gorgeous ambience and add a touch of instant magic to the tablescape. The candles add a warm amber glow to the room that makes the dinner feel intimate.  T – light votives, different sized pillar candles and thin taper candles are always a good choice. "I don't believe that less is more when it comes to Christmas Decor. However, I think it works much better when you use more of the same items – as opposed to 20 different types of accessories on the table", adds Sharon.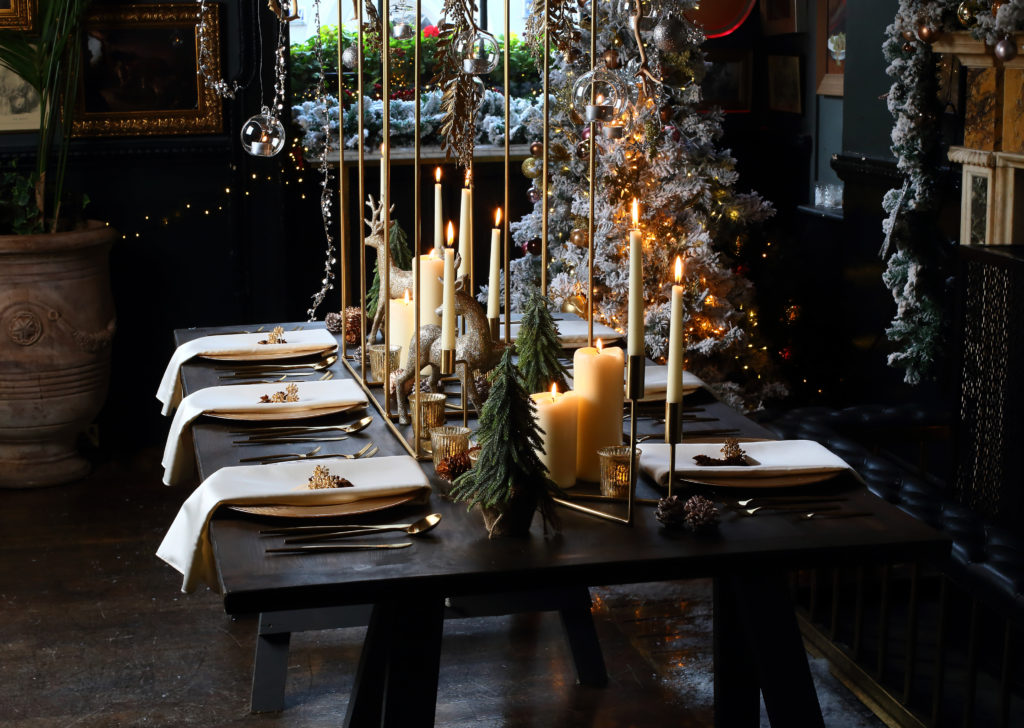 Festive season always calls for a touch of sparkle- glitter tablecloths, table runners, anything goes.  "If glitter isn't your thing, choosing coloured plates as a base plate to set the napkin or your starter plate on (I love to use a rich gold colour glass plate). It's a great way to add some sparkle if you prefer a classic linen for your Christmas table". Or why not invest in a bottle of silver or gold spray paint and dye some pine cones, it is so simple and adds the perfect Christmassy finish to any tablescape. A lovely way to enhance the look for a table is to use linen napkins and to fold them in a gorgeous way on the table. "I have learned many ways over the years but YouTube can be a fantastic place to look for new napkin folding ideas! It's something so simple, but can add to the overall look of the table. "
A key element when considering your Christmas table is sticking to two or three colours. "Less is definitely more when it comes to colour palette. I love the combination of mixed metallics – gold, rose gold and silver. I personally will be opting for this stunning palette for my Christmas table this year". Mixed metallics look so beautiful against an exposed wooden table or an elegant champagne linen;  It is a unique take on the traditional Christmas table setting. "Mixed metallic decor with pops jewel colours and glitter against a table filled with candlelight adds a touch of glamour to my Christmas celebration!"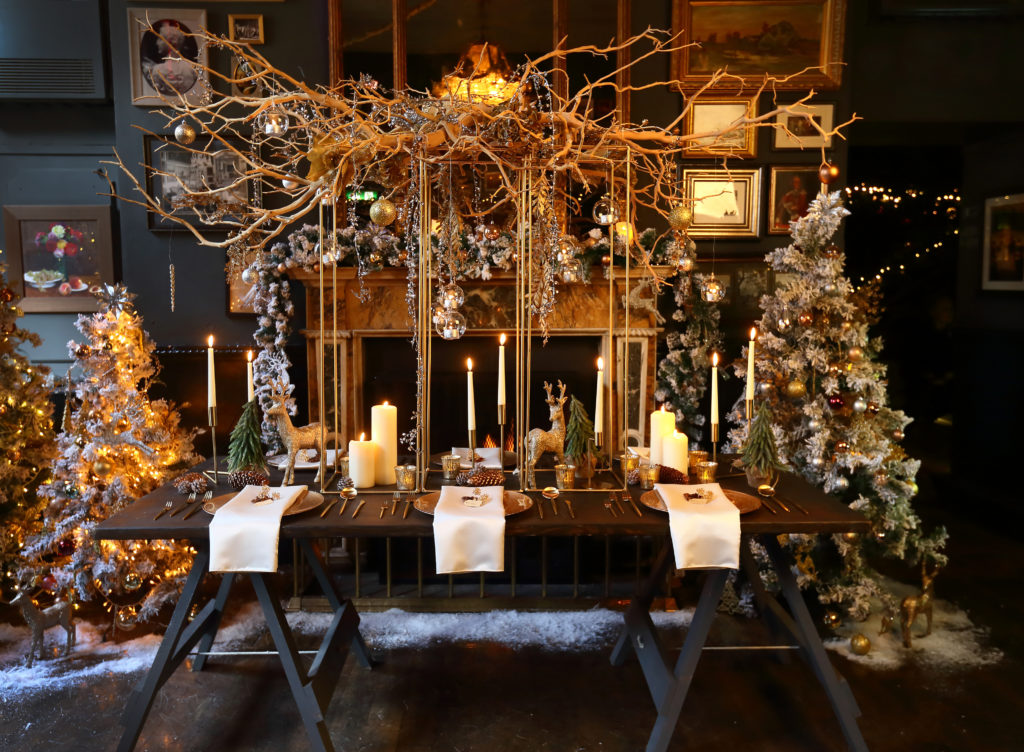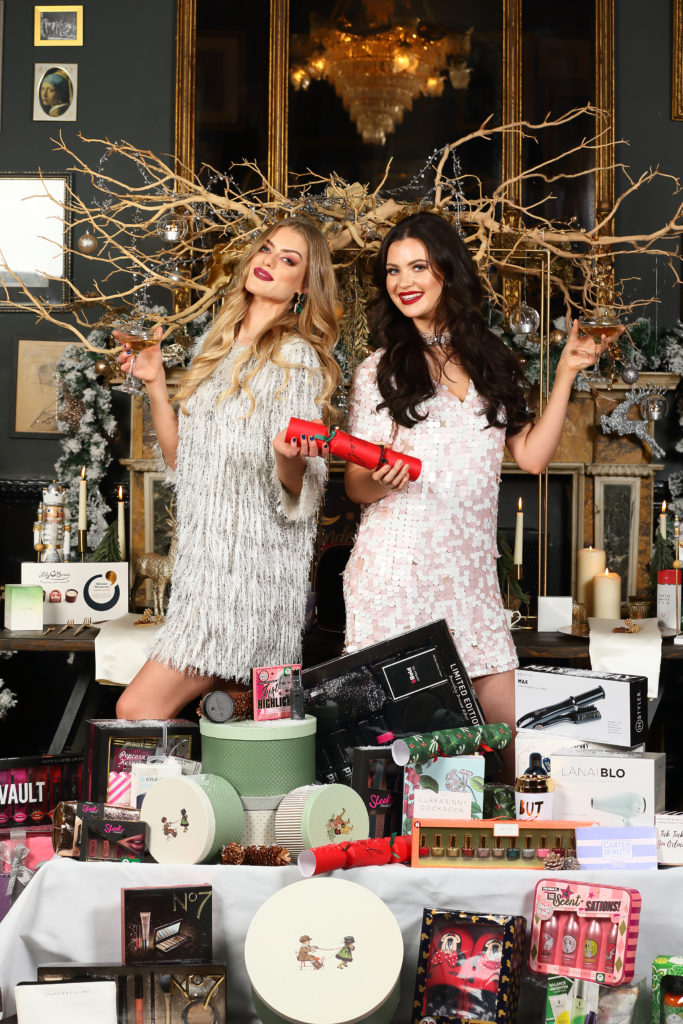 We hope these tips will help you recreate an enchanting tablescape for Christmas! A huge thank you to Denise Smith and all of the team at the Sunday World Magazine. Wishing you a magical Christmas from all of the team at Frog Prince x
Beautiful images by Frank McGrath http://frankmcgrath.ie/photography/