Something that features in practically every wedding we're involved with is flowers and foliage. Bringing nature into a celebration creates such a wonderful atmosphere and can really set the tone for a wedding day.
But we thought we'd let you know what the meanings behind some flowers are, and what seasons they're best to feature in.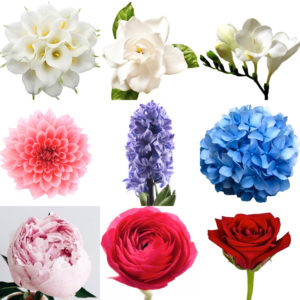 1 Calla Lillies
Meaning: magnificent beauty, femininity and modesty
Season: winter to late spring, but they're available all year
2 Dahlia
Meaning: gratitude and eternity
Season: summer to early autumn
3 Freesia
Meaning: innnocence, youth
Season: all year round
4 Gardenia
Meaning: secret love, peace and purity
Season: all year round
5 Hyacinth
Meaning: benevolence
Season: November to May
6 Hydrangea
Meaning: devotion and remembrance
Season: July to November
7 Peony
Meaning: welcoming, beauty
Season: spring only (imported ones the rest of the year)
8 Ranunculus
Meaning: charm, gratitude
Season: November to April
9 Rose
Meaning: depends on colour; red for romance and love, yellow for friendship
Season: all year round
There's not a lot we don't know about flowers and flower arranging, so call us to chat about your options for your big day and we'll give you our best advice.
Love, Sharon & the Frog Prince team x